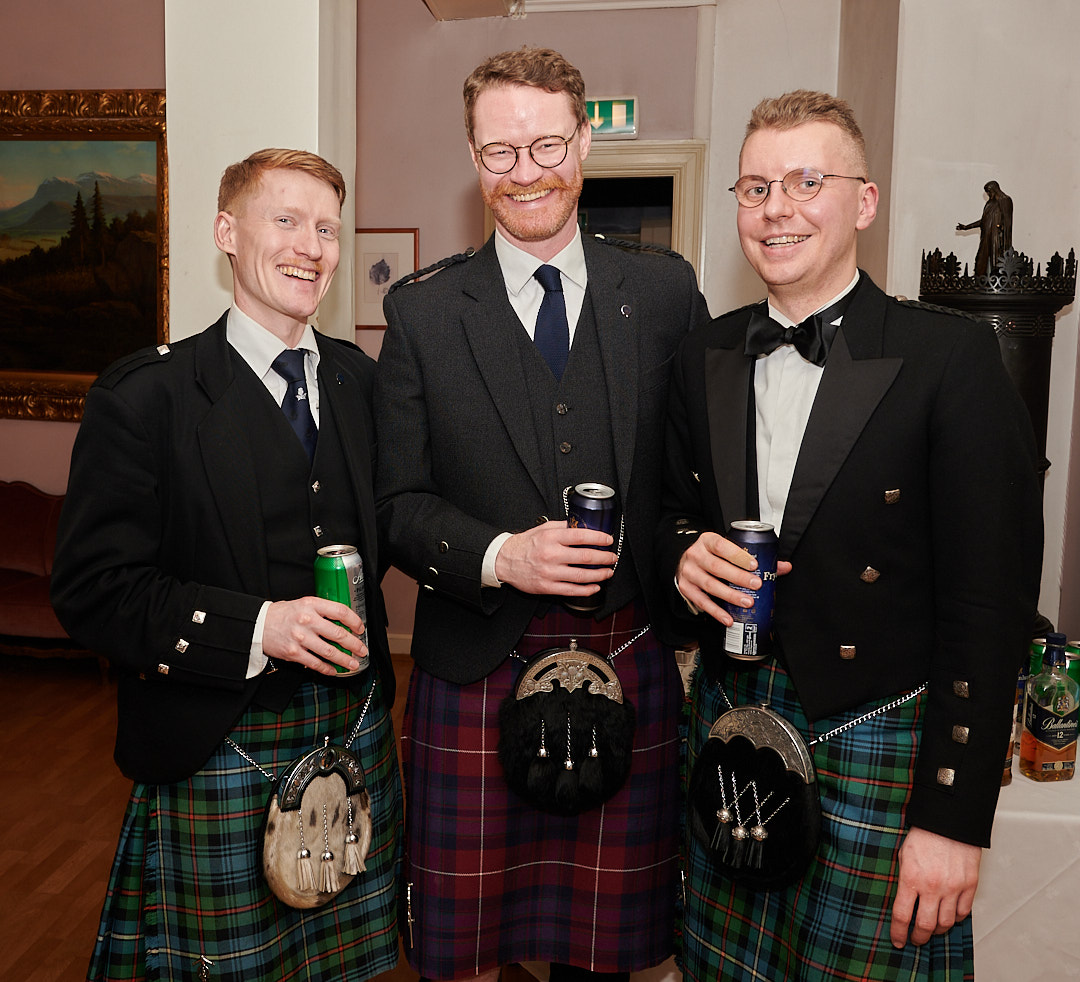 A few words on dress codes
Highland, business formal, jacket and tie, black tie, highland black tie, or even dress sensibly and dress warmly… The world of dress codes can at times leave the best of us somewhat bewildered.
If you have been with us in the Cally for some time, chances are you have encountered at least all the above varieties of dress codes for an event. Should you google any of the dress codes, you are likely to get at times contradictory results advising you on traditional, modern, and alternative interpretations of how to dress.
To help us all avoid any potentially embarrassing faux pas relating to the way we dress and to establish a common standard, we have put together this brief description of what we in the Cally mean when we state a specific dress code for an event.
A formal jacket and regular tie or a bow tie

should always be worn.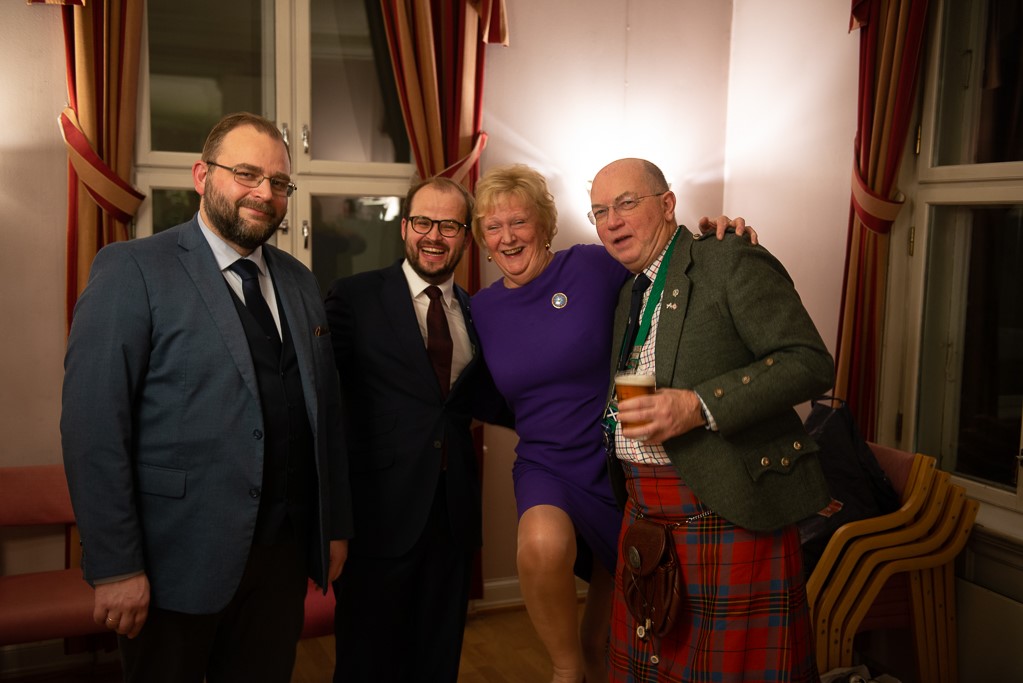 Highland and Business Formal
We will begin with the most common dress code we have, which in the invitations tends to read as follows;
The usual Cally dress code of Highland or Business Formal (jacket and tie) applies.

If you find yourself in the mood for highland wear, you should ideally pair your kilt or trews with a nice daywear jacket, such as for example the Argyll, in either classic black barathea wool or in tweed.
Many will prefer wearing a waistcoat, but these are strictly speaking optional.

Ghillie brogues can of course be worn, but a nicely polished pair of regular black or brown dress shoes are also quite appropriate.


For business formal we are mainly referring to your regular two- or three-piece suit. A jacket paired with a nice pair of trousers will also be appropriate.
Jeans are considered too casual and should be avoided.

Cardigans and vests are very nice but are not a suitable replacement for a jacket.
Prince Charlie- or a tuxedo- jackets are a bit over the top for a business formal event.

During winter, bring suitable shoes for indoor wear if you need to wear boots.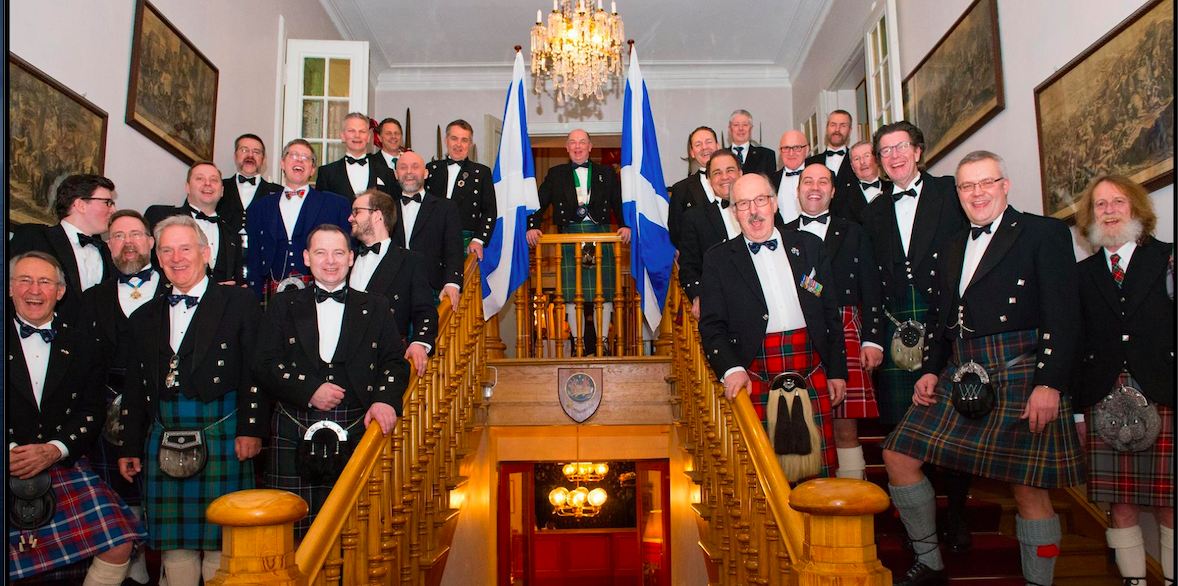 Black tie
For Burns Supper and other special events, you are likely to see that the dress code is stated as Strictly only Highland, Bunad, Uniform, or Black Tie.
In the future, we will not allow guests in that do not adhere to these requirements.

When browsing for highland attire one may find that there is a bewildering array of accessories and paraphernalia available for purchase, and it is easy to be given the impression that these are all essential parts of any highland dress.
-One can quickly end up looking like Mel Gibson in Braveheart or like the Piper to the Sovereign if one were to follow all the advice given by retailers of highland attire.
While this is naturally a question of personal taste, we would venture that less is more when it comes to such accessories and advice you all to exhibit moderation.

Pins
It is often nice to display a specific allegiance or support for a specific cause or organisation using lapel pins.
We would however again advise that less is more in this regard and encourage you to not wear more than two or three different lapel pins at the same time.

Swords
Please do not dress up for an event, ready to go to war.
Having a Sgian Dubh is welcome when wearing a kilt.

Belts
Kilt belts are purely decorative and should ideally not be worn when you wear a waistcoat. And never with Black Tie.

They can however be a very nice addition to a casual event or in those instances, you otherwise find yourself without a waistcoat.