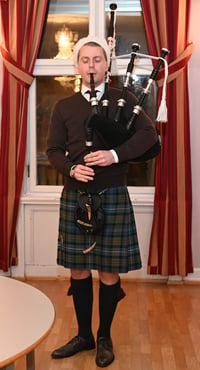 A society is nothing without its members.
Previously
an all-male Society
. The Cally has now elected to be open for eligible members regardless of gender.
As we are Oslo-based it is not surprising that the majority of our members are of Norwegian origin, but one thing we all have in common is our special interest in Scotland and her Culture.
Our members come from many differing walks of life. Variety is indeed the spice of Society life: some members are professionals and academics, some are self-employed craftsmen, some have military connections, and others are retired.
Am I eligible to apply for membership?
How much will it cost me to become a member
Regular Meeting Attendance Dues